How would Jesus and the Apostle Paul use Halloween to preach the Gospel?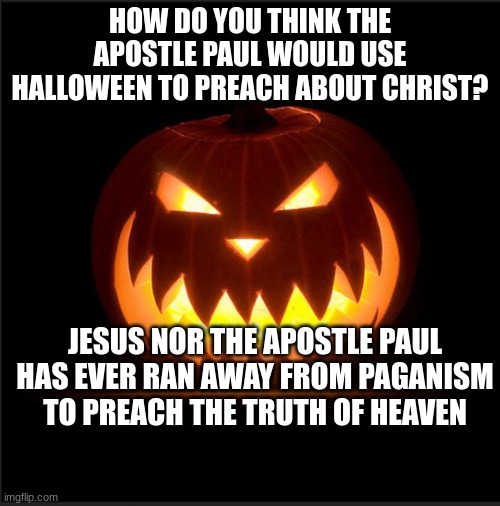 Anyone reading about Jesus and the Apostle Paul will see how their lives are very similar since the conversion of Saul of Tarsus.
Jesus took every opportunity to preach the gospel whether it was the woman at the well, the prostitutes, or even the tax collectors.
The Apostle Paul went to a pagan place of worship (Acts 17:23) where he found an altar with a writing on it TO AN UNKOWN GOD which he used to preach about the known God.
Today many people of faith argue about the celebration of Halloween, let's take a look at the consequences of each scenario.
Those who do not associate with it at all: the one time of the year the most people come visit your home will miss out on the opportunity to know Jesus. In fact, many may die the next day without the opportunity to read about Jesus because of you
Those who associate with it: many will never know about Jesus because you are more concerned about your own life than people's souls. As individuals, it is about having "harmless fun". As a business, it is about making money by attracting people to Halloween activities. As a local church, you want to be more "inviting" and "tolerant" to those who normally do not come for "harmless fun".
As the church Christ built how would Jesus (and the Apostle Paul) take advantage of Halloween to preach the Gospel:
street preach during a Halloween parade
hand out tracks with the candy given to the children
host a party where the guests are exposed to Jesus
Do not associate with Halloween but rather take advantage of 1 of the most connected ways to preach the Gospel.